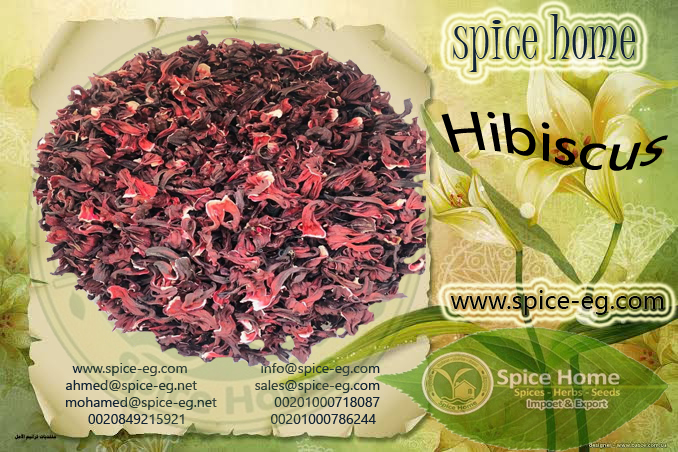 Flores hibisci sabdarifa
Hibiscus Flowers
Botanical Name
( Hibiscus Sabdariffa )
Available Form:

Hibiscus whole flowers
Hibiscus crushed flowers
Hibiscus sifting ( T.B.C )

Season:
Available all the Year
Packing:
In polypropylene bags, weight depend upon form type.
Annual production capacity :400 Ton
Storage Conditions: Store in a cool dry place at temperature above 20 ° C and relative humidity 75%.
Hibiscus benefits
Hibiscus benefits
Health Benefits of Hibiscus: Hibiscus is the one of the most beautiful flowers. You may not believe it, but tea prepared from hibiscus is actually pretty famous. Like many other teas and flowers, hibiscus is known to be very healthy for the body. There are many benefits which the flower is known to offer when it isn't in the form of tea. Following are some of the health benefits of hibiscus: Here are some of the health benefits that are associated with hibiscus: Hibiscus for Fevers and Hot flashes: When you consume hibiscus tea, you can experience the cooling effect. This means that it is a great tea for women with menopause. It also helps in decreasing the intensity of or getting rid of hot flashes. Remember that if you have frequent fever episodes, hibiscus is highly beneficial as it cools down the body. Vitamin C and Antioxidants in Hibiscus: Hibiscus has high amounts of antioxidants. Because of the high amounts of antioxidants, it greatly lowers blood pressure, reduces cholesterol levels and also decreases the chances of developing heart disorders. Also antioxidants aid in reducing the risk of developing a cancer. As hibiscus is rich in vitamin C, it helps in boosting the immune system and can also help in weight loss. Dandruff Problems can be solved: If you have dandruff problem and tried other remedies but found no improvement in the situation, then hibiscus is the best solution for your problem. Hibiscus is a natural remedy for scalp problems in India for many centuries. Also people believe that hibiscus helps in preventing hair fall. If the hair fall is due to thyroid problem, hibiscus is the best solution for this. You can achieve this by consuming hibiscus tea or by applying hibiscus leaves to the scalp. Hibiscus for Acne Problems: Are you not sure about how to cure acne? Hibiscus helps you. It helps in unclogging the pores. All you need to do is apply wet hibiscus leaves to the acne-affected area where you want to clear the blemishes. Allow it on the skin for about 15 minutes and then rinse with water. You must continue this every day until the acne diminishes. There are numerous health benefits of hibiscus. Whether you want to reduce the intensity of the hot flashes, dandruff or acne or boost the immune system, hibiscus can be the solution for all your problems.
Physical / MICROBIOLOGICAL Analysis
Physical CHARACTERISTIC

 Colour

Blood- Red

 Aroma

 Grassy and herbaceous

 Flavour

 Characteristic flavour

 Aspect

 Dried Whole Flowers of  Hibiscus
MICROBIOLOGICAL Analysis

 Salmonella

Not detected in 25g

 Escherichia Coli

 Absent

YEAST/MOULD (CFU into 1g no more than)

0,10 x 103
CHEMICAL Analysis
CHEMICAL Analysis

 Moisture %

6.00

 Extraneous Matter %

 Absent

 Living & Dead Insects %

 Absent

 Mineral Dirtines Contents %

 Absent

 Organic Dirtines Contents %

 Absent

 Allergens material

It Does't contain

Metal particles %

Absent

Pesticides Residues

Meet EU Regulations

Heavy metals (Sr, Sс)

Absent
Get a Quote for that product ??